Chapel St Leonards - The Perfect Summer Staycation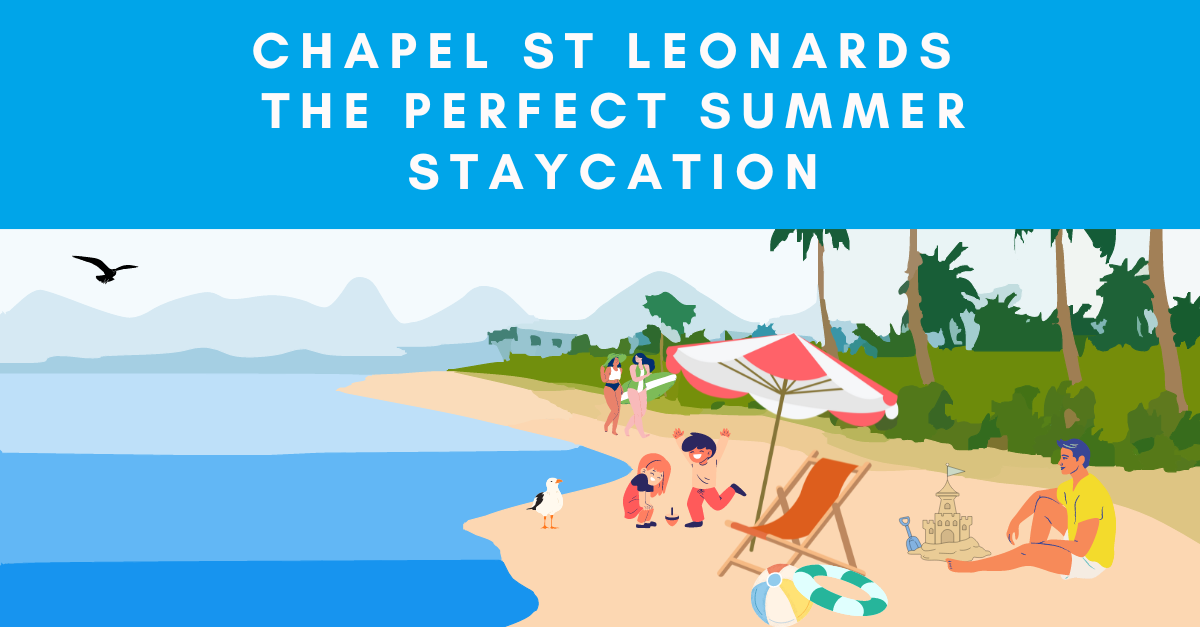 Chapel St Leonards with an average residential population of 3,431, and thousands of visiting tourists per year, it's no wonder why Chapel St Leonards is slowly creeping up the ranking of a family favourite summer staycation destination.
Whilst Chapel St Leonards does have an element of village life, it is also known for quintessential British holidays. To the south of the village green, you'll find the true caravan holiday experience, with the many pubs in Chapel St Leonards, and caravan parks - harbouring hundreds, upon hundreds of caravans.
With that in mind, Chapel St Leonards is not comparable to Skegness and Ingoldmells, primarily due to lesser-known attractions, or rather the number of attractions. Which in hindsight, works in Chapels favour. You won't find floods of traffic, blocking the pathways, and roads.
But what does Chapel St Leonards have over its neighbouring holiday destinations?
Benefits of visiting Chapel St Leonards:
Welcoming
A sense of community
Clean and peaceful beach walks
Clean and friendly pubs
Friendly dogs and responsible pet owners
Award-winning chip shop!
Fellow holiday-makers are friendly
Millers! An open all-year-round all-in-one pub, cafe, and arcade!
Chapel St Leonards holidays for a summer staycation, winter staycation, or a long weekend break, can be something rather special, with countless memories to be made.
Below we'll cover the following to explore Chapel St Leonards in a little more detail:
Where is Chapel St Leonards
Is Chapel St Leonards open
What is Chapel St Leonards like
Related blog posts:
Where is Chapel St Leonards?
Chapel St Leonards is a coastal village located in East Lindsey, Lincolnshire, East Midlands, United Kingdom, and is approximately 5 miles north of Skegness and 10.1 miles south of Mablethorpe.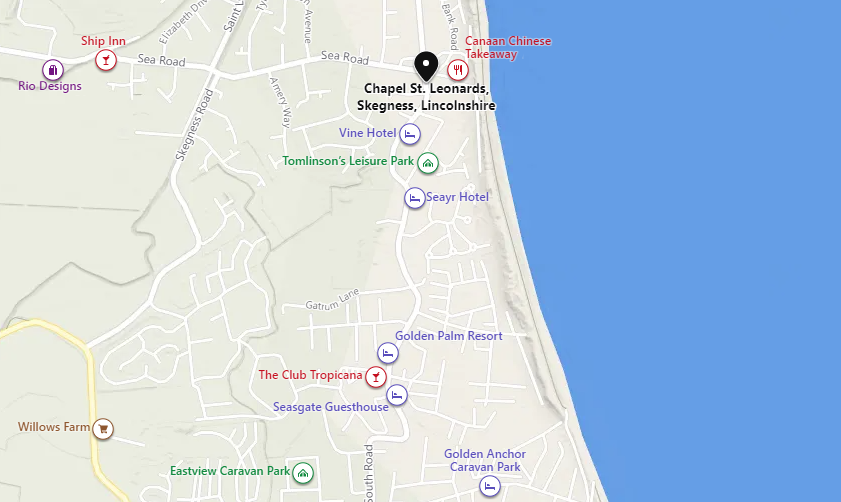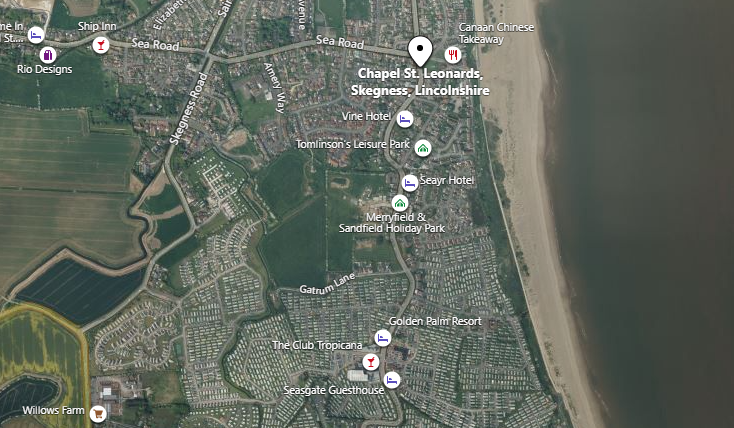 With a prominent position, it makes light work of visiting other coastal destinations by foot or car:
Chapel St Leonards postcode: PE24 5BQ
Chapel St Leonards Lat/Lng: 53.222727, 0.339413
Is Chapel St Leonards Open?
Yes, Chapel St Leonards is open, considering it's a residential area too. The most common amenities will still be open, co-op, spar, and pubs.
However, outside of peak season, many resorts and caravan parks will be closed. But don't let this stop you, you can still have a relaxing break, walk the beach, and pop into millers bar and arcade for a bit of fun.
Caravan parks and resorts typically open around the 2nd/3rd week of March and close around the 3rd/4th week of October every year.
Whilst you may not be able to get that winter staycation at Golden Palms, or Happy Days, you'll still be able to book a B&B, and private chalets during winter.
What is Chapel St Leonards Like?
Chapel St Leonards has a welcoming atmosphere, with a true British coastal vibe.
You'd be hard-pressed to find any illegal activity or confrontation. Chapel is filled with holiday-makers looking to create good memories, and residents welcoming holiday-makers with open arms.
Chapel St Leonards is a friendly welcoming holiday destination, filled with plenty of opportunities to have a lot of fun.
Although, to really understand what Chapel St Leonards is like, is to understand what your first day and second day of your holiday may look like - read on.
Your First Day In Chapel St Leonards
Below is a tale, a subjective look at what your first and second day may look like in chapel.
On the first day of preparing for your holiday drive, you pack your luggage, jump in the car, bus, or train and then make the Journey.
As soon as you land in Chapel, you're instantly overwhelmed with holiday emotion, you know your holiday starts now.
Depending on your accommodation, but for the most part this will be a caravan, you'll hit the ever so common, hunting down the location of your caravan!
Once you've found your caravan, the unpacking, and the scoping of the caravan begins.
The kids, and potentially the dog, have a moment of insanity. The kids run outside being loud, happy to be away from school, and just generally happy being free.
The first day in Chapel St Leonards is usually filled with delight, everyone is happy, including residents.
Whilst the first day is usually planning and relaxing. You know what awaits - The time to jump in the shower, putting on your best evening clothes, and then heading to the pub.
The first night sitting in a pub with an alcoholic beverage, the kids asking for £1 to hit the arcade, is the proverbial "ahhhhhhhh" moment. You're there, on your holibobs, life can't be better.
The following morning, breakfast time! Breakfast just tastes better on holiday, but more importantly, a fry-up is so damn good.
After breakfast, it's time for the morning walk along the beachfront - usually with kids, and dogs acting like they've eaten a bag of sugar, rich with excitement.
You notice, that the majority of holiday-makers and residents say "good morning", you nod and reply back with a "good morning".
During the morning walk, you have to decide what you're going to do for the day, but you won't have an itinerary, and you know sitting in the arcade all day is going to cost a fortune.
So you decide, it's a nice day, you'll spend the best part of it on the beach.
As soon as lunchtime hits, you head back to the caravan or you go for the traditional fish and chips, with a quick visit to the arcade - typically the 2p machine.
Time is getting on, you must get back to the caravan for a rest and shower, you know what's coming - the evening!
Throughout the day in Chapel St Leonards, you notice everyone is polite, from residents to pub/arcade staff, to fellow holiday-makers.
Chapel St Leonards is not on the same level as Skegness and Ingoldmells, but you can still have equal measures of fun. Not to mention, if you're aching for a day at the fair, just head over to Ingoldmells to visit Fantasy Island.
Conclusion
Chapel St Leonards holidays are one of a kind, you don't get the hustle and bustle of Skegness, but you do get a true British holiday on the coast.
With many caravan parks, chalets, B&Bs, touring sites, and camping sites, there really is something for everyone. Not to mention, pets are not excluded, you'll often find pet friendly caravans in Chapel St Leonards.