10+ Best Pubs In Chapel St Leonards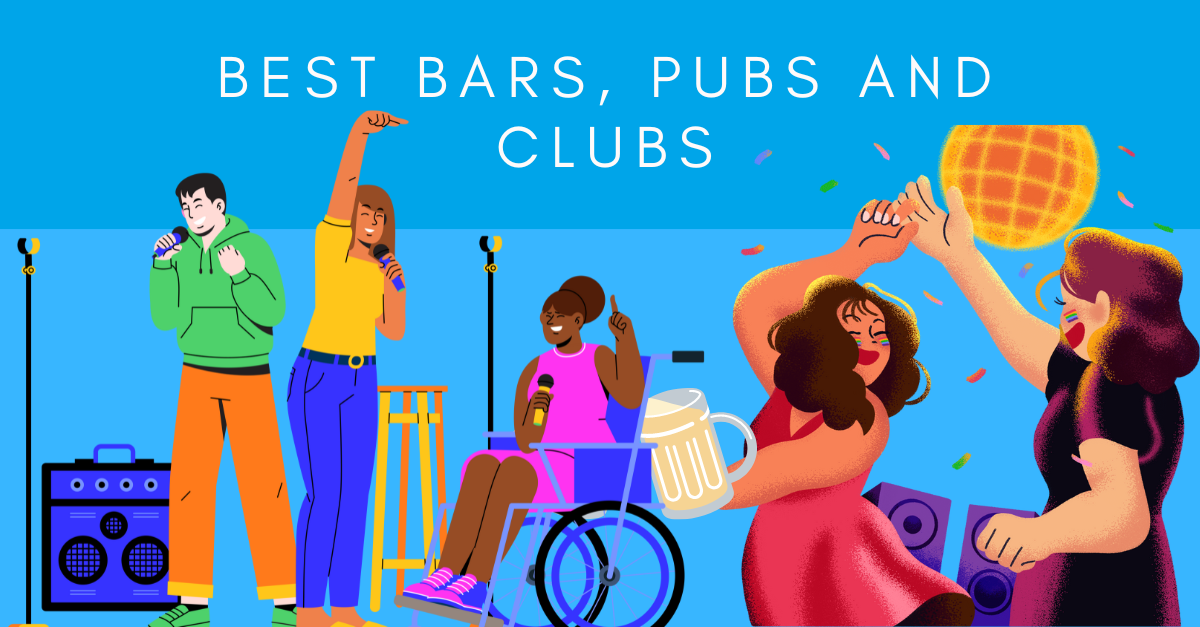 You don't have to go far to find a pub, bar, or club in Chapel St Leonards, but what makes a great pub? It's not just the convenience, but rather prices, location, and atmosphere.
By all means, you can use an on-site pub - meaning Club Tropicana and the likes, but to really have a great experience, you'd need to venture off into the depths of Chapel St Leonards, to not only find a pub but also leverage all that Chapel St Leonards has to offer.
Before proceeding onto the list of pubs, we'll also answer some of the most common questions surrounding pubs in Chapel St Leonards.
Are There Any Dog Friendly Pubs In Chapel St Leonards?
Yes, there are many dog-friendly pubs in Chapel St Leonards, but as with anything in life, rules can change in an instant.
Always aim to ask a member of staff before walking in. Unless, of course, you see a clear explicit sign stating otherwise.
Below you'll find a list of all dog-friendly pubs in Chapel St Leonards:
Millers Bar
Ship Inn - dogs welcome inside the pub, but excludes the restaurant
The Arches - excluding carpeted areas
Smugglers Inn
The Admiral Benbow
How Many Pubs Are There In Chapel St Leonards?
There are approximately 15 registered pubs and approximately 10 restaurants serving alcohol.
Depending on your accommodation for your holibobs, you really don't need to travel too far to find a welcoming pub.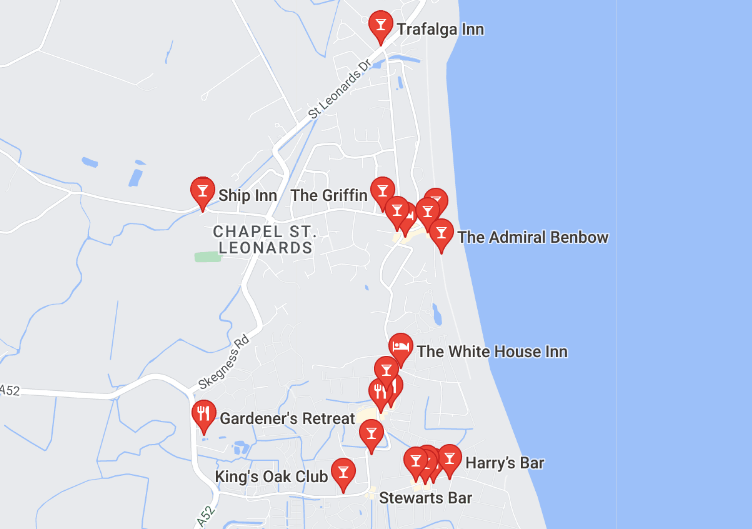 Pubs In Chapel St Leonards
1: Millers Bar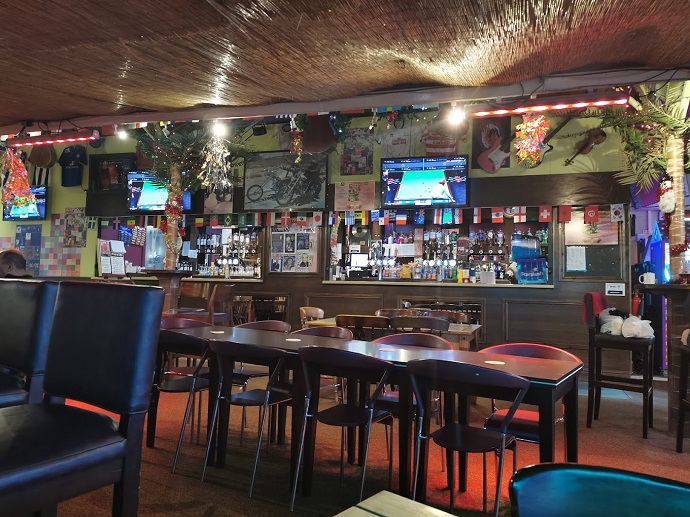 Millers bar tops the charts when it comes to location, price, atmosphere, and cleanliness. Millers almost sits on Chapel St Leonards beach with a true "British" feel to it. If a beach and pub day is your thing, then Millers is the one for you.
It's fair to say you won't really need much else, as millers also has an adjoining cafe, and arcade - meaning the whole family can have a great day at Millers.
During the summer months, you'll also find Millers hosting live bands, which can be heard from the beachfront. Millers really should be on your radar!
Contact Details:
2: The Vine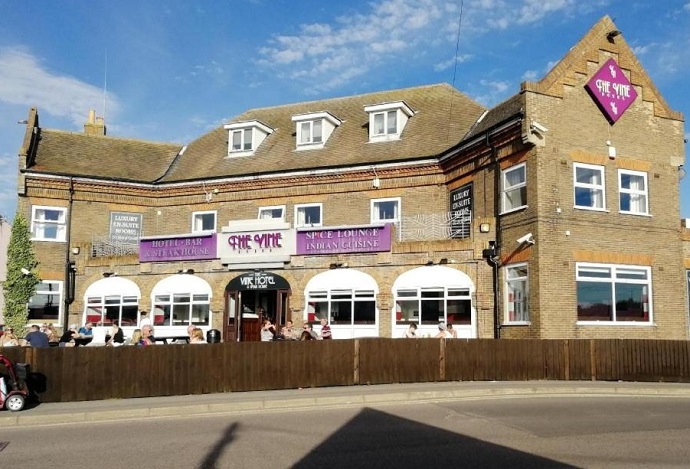 Source: Booking.com
The Vine is yet another fine example of convenience, with location and friendliness being the primary factors in making a pub, a great pub.
The vine sits in close proximity to the beach but much closer to the green in the heart of Chapel St Leonards. You'll find it extremely difficult to find a better pub that allows you to let your kids play on the green, have a picnic, and listen to a live band playing outside at the front of the pub, with a pint in hand.
The vine on a scorcher of a day is well worth a visit.
Contact Details:
3: The Arches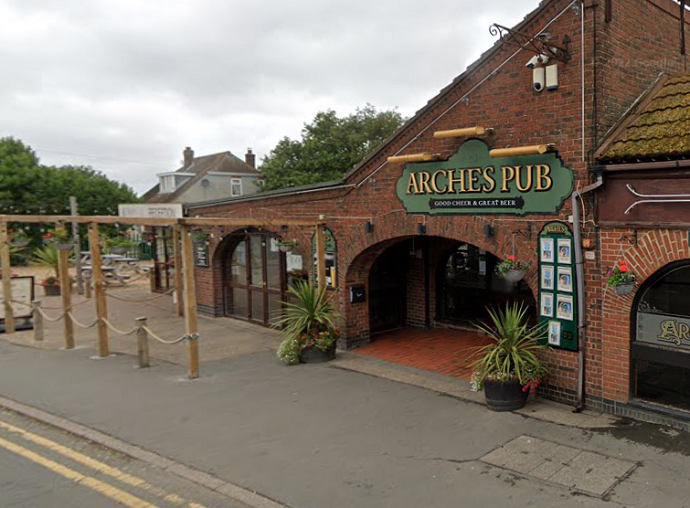 The Arches has an Eastenders vibe - not knowing if Phil Mitchell is going to jump out and clonk you one with a crowbar is a scary prospect, but nonetheless, and jokes aside, the Arches has a great atmosphere, it's clean and affordable.
Not to mention, The Arches is extremely close to arcades, and takeaways, you'll most certainly have a great evening.
If you're holidaying at happy days resort, be sure to visit the Arches, you'll be welcomed with open arms, and you'll have an alcoholic beverage to hand in no time.
Contact Details:
4: Smugglers Inn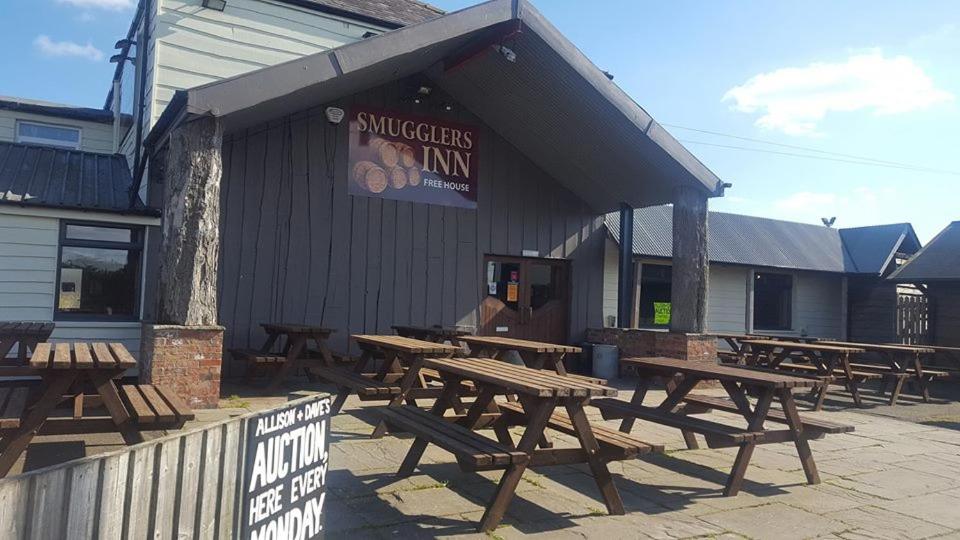 Source: Booking.com
The name really does allude to someplace you should not visit, but a name is a name, and nothing more. Smugglers Inn is quintessentially British, it's clean, friendly, and overall, a rather nice experience.
Smugglers Inn is conveniently located a few steps from the Golden Palms resort, so like many other pubs in Chapel St Leonards, you're really not too far from amenities.
A visit to Smugglers Inn for a few drinks, whilst hearing the dreaded money-eating claw machines really does give you that seaside feeling, and is well worth a visit.
Contact Details:
Postcode: PE24 5TR
Phone: 01754 872553
5: The Admiral Benbow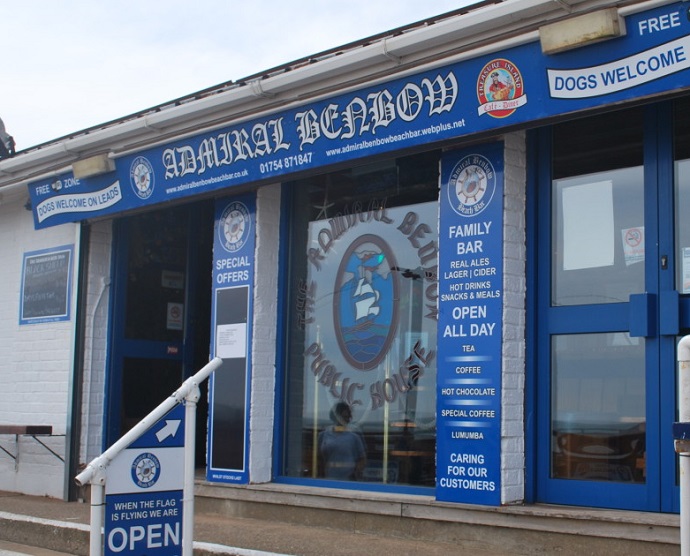 Source: Use Your Local
The Admiral Benbow is quite a marvel, or rather an ambitious approach to giving punters a traditional British experience on the inside, but more of a marine experience externally.
The Admiral is quite literally on the beachfront, located on the promenade! There is no doubt that lapping up the sun, and watching the waves crash, with a beer in hand is a peaceful serene moment.
Whilst the Admiral lacks in close-by amenities, it more than makes up for it with its prime coastal location. The Admiral should be on your list of pubs to visit on a warm sunny day.
Contact Details:
6: Trafalga Inn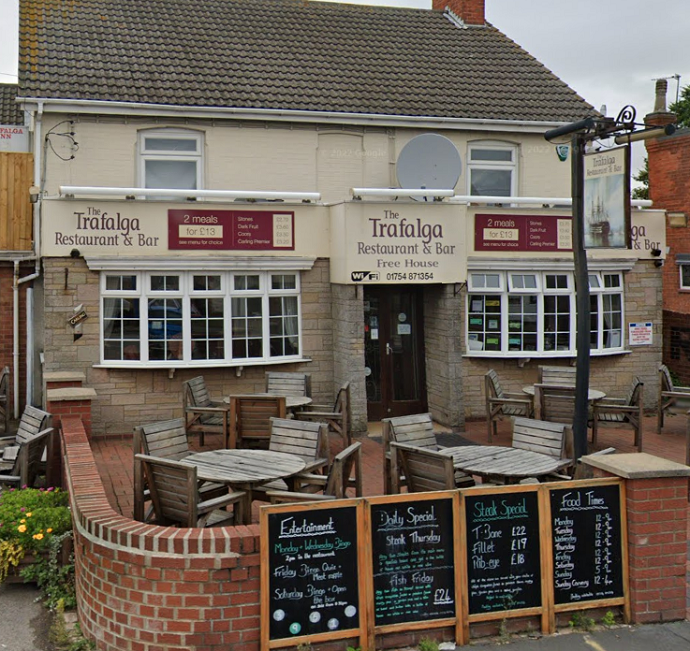 The Trafalga Inn is not your average bear, It's not what you'd call a coast pub, due to its location being nestled in the residential area of Chapel St Leonards, but don't let the location void you from making a decision.
Being closer to the residential area, simply means fewer tourists which equates to really mixing with the locals, and experiencing what life would be like as a Chapel St Leonards resident.
Not to mention, the Trafalga Inn also includes a restaurant and a pool table, should you want to spend a few hours just winding down and enjoying a relaxed environment.
Contact Details:
Postcode: PE24 5RD
Phone: 01754 871354
7: Ship Inn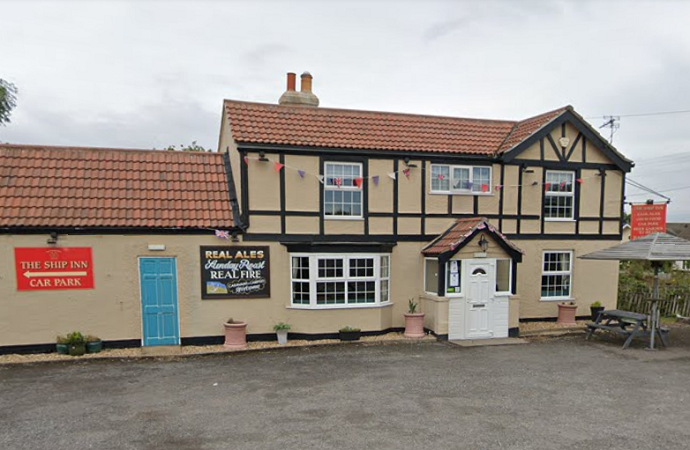 The Ship Inn, similar to the Trafalga Inn, is on the outskirts of the Chapel St Leonards center, caravan parks, but don't let this stop you! as the Ship Inn is quiet, friendly, and overall a real British pub.
The Ship Inn also serves hot food, with a variety of scheduled food days - meaning Wednesday is curry night!
Facilities:
Beer Garden
Dominos
Dog Friendly in the Bar
Families Welcome
Open Fire
Parking
Pool
Wi-Fi Available
Darts
If you're lucky enough to own a touring caravan, you may be able to take advantage of one of five pitches located at the back of the Ship Inn.
Contact Details:
8: Stewarts Bar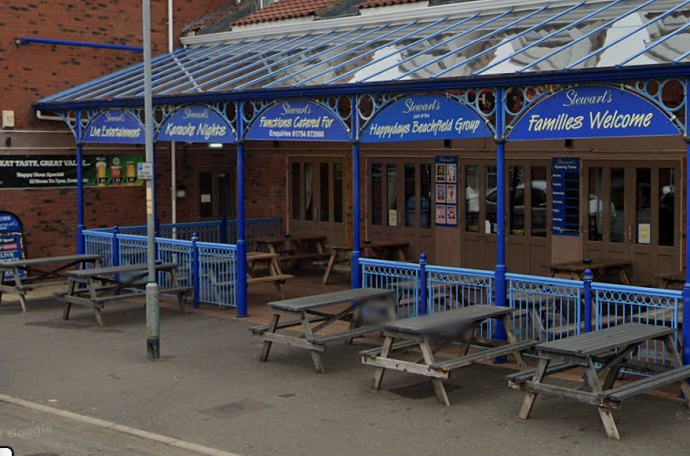 Stewarts Bar located on the same stretch (Trunch Lane) as the Happy Days Club, and the Arches, is a family-driven bar with regular entertainment, a pool table, and more importantly, Karaoke.
Like many other pubs, Stewarts' bar is in a prime position so the whole family can pop into a takeaway, use one of the many arcades, or take a 10-minute stroll to the seafront.
Contact Details:
Postcode: PE24 5TU
Phone: 01754 871311
9: Happy Days Club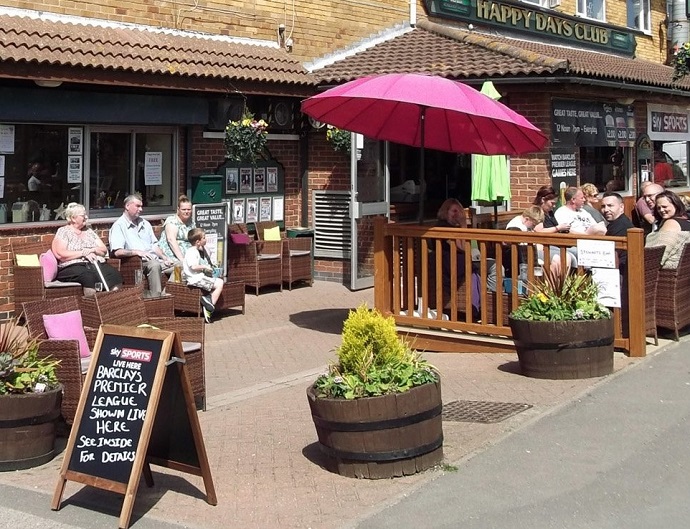 Source: Happy Days
The Happy Days club is the hotspot for an impeccable evening! You'll find affordable drinks, bingo every night, evening entertainment, children's entertainer, soft play, and arcade machines.
Happy days really do try to provide an amazing experience for the whole family, and like Stewarts bar, and the arches, you're not locked in. You're free to roam the many other pubs/bars and arcades.
Contact Details:
10: The White House Inn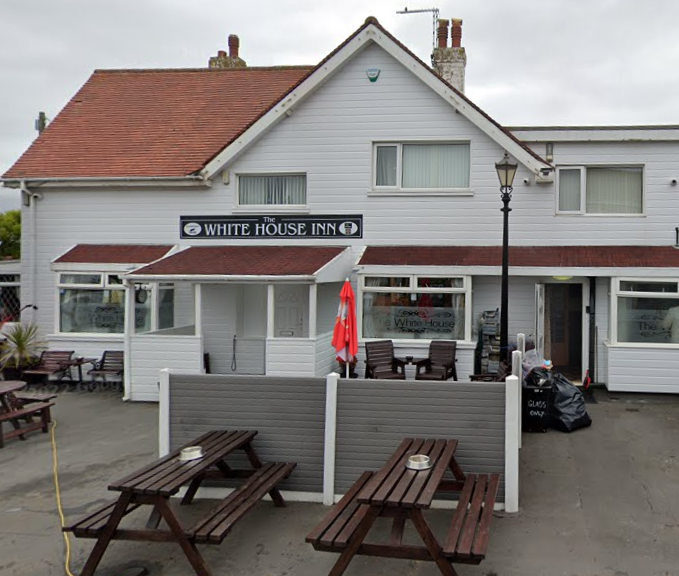 The white house Inn in Chapel St Leonards is yet another fine example of accommodating to the masses that like venture off the beaten path of on-site resort pubs. The white house is approximately a 4-minute walk from golden palms and offers a friendly, clean pub, with a great atmosphere.
Within close proximity, you'll find caravan sales services, a beach store, and a cafe to meet all required necessities to have a pleasant stay.
Contact Details:
Postcode: PE24 5XF
Phone: 01754 873551
11: Club Tropicana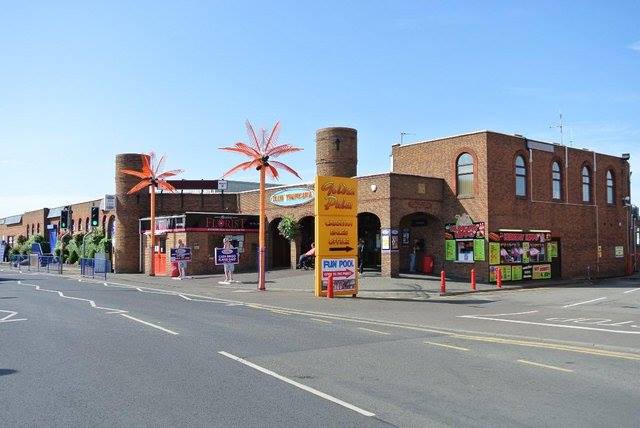 Source: Club Tropicana
Club Tropicana is an on-site club found on the Golden Palms resort, and whilst not traditionally a pub, Club Tropicana still offers an enjoyable evening, with many evening shows to entertain the whole family.
With the above in mind, you don't need to travel too far to find a well-equipped arcade and a chip shop. All amenities and takeaways are conveniently placed to enable a short walk from Club Tropicana.
If entertaining the kids is the number one priority for you, then an evening at Club Tropicana is a must. There is no better feeling than seeing your kids on the dance floor, playing with other kids, oh and them asking for another £1 to use the sweet machine.
Contact Details:
12: JTs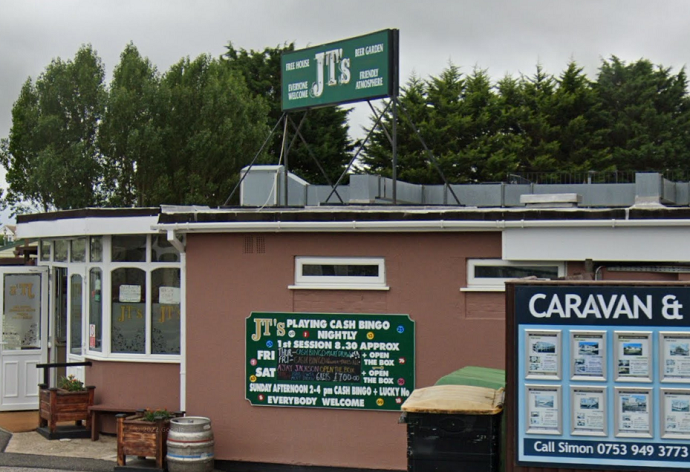 JT's on the outer ring of Golden Palms, but within walking distance of Cherry Park chalets, offers a peaceful, and relaxing experience. If you prefer the quieter side, and not the hustle and bustle of trunch lane, head over to JT's.
Whilst the name "JT's" sounds like a moonshine bar in someone's basement, it's yet a superb, well-stocked pub, offering Bingo, and a few arcade machines.
You really cannot go wrong with JT's, and we believe you'll be pleasantly surprised with the family vibe, and more importantly how welcoming and accommodating the atmosphere feels.
If you're feeling a little peckish, and crave fish and chips, then you're in luck, a chippy is quite literally a 60-second walk from the front door.
Contact Details:
Website: JTs Website
Postcode: PE24 5TR
Phone: 01754 874040
Conclusion
Taking the time to spend time in each pub is a surefire way to find "the one". Whilst we'd encourage you to travel in and around Chapel St Leonards to see what's on offer, we understand that it's the "British way" to have a local, or in this case a holibobs local.
Author